Monday, 11 January 2016
It is 2:30 pm, and the sky already seems to be getting dark as I make my way to the Helsinki airport… in a taxi (gasp! I know! But my tennis shoes and single layer of pants just aren't going to make it to the bus stop in this -20º C weather).
Somehow I have managed to visit this city three times over the past several months, for a total of six or seven weeks, and it's about time I shared some snapshots of life here. What I lack in photos (I've taken very few) I'll try to make up for with riveting description…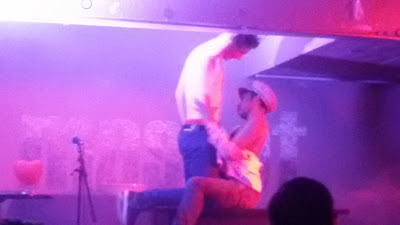 The in-between bingo sets show… it's pretty much what it looks like.
Sunday nights find me at Mascot cafe with my friend Ella (and her friends) for bingo. A young, rambunctious crowd plays for free drink vouchers and the satisfaction of winning. They sing along with the flamboyant host (an out-of-costume drag queen who hardly looks his 40 years) for certain numbers—"I am 16 going on 17…" "when I'm 64…"—and cheer loudly whenever a player gets Bingo! I begin to get a solid grasp on Finnish numbers just in time to leave.
Two locals sitting outside the fray stop me this week on my way to the door to ask what's happening. But isn't bingo just for old people? They say. Sometimes not, apparently! It is always when I can tell a local something they didn't know about their own city that I begin to feel I have really settled in.
Mascot, a down-to-earth bar with a lobby plastered with graffiti-letter posters advertising underground events, also plays host to Helsinki's first spoken word festival, among other things.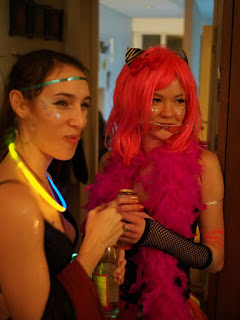 German Sparkle Party capture (not mine).
My friend's house in Käpylä, where I am very kindly welcomed as a long-term guest (maybe there is no Finnish saying about houseguests and fish…) is green. Snow covers the front lawn; when I first arrived it was autumn leaves and apples instead. Seven unique individuals coexist there with surprising harmony, and instantly make me feel at home. We practice jiujitsu on the tatami mats in the attic (later we will move the mats to make room for a massive "German Sparkle Party" (warning, click at your own risk) complete with mojito bar and black light dance floor.) and we play pinball on a vintage machine in the living room while sipping Salmiakki (licorice liqueur). In proper Finnish fashion, I become thoroughly addicted to the sauna in the basement. I learn that if you add a splash of beer to the ladle of water before tossing said water onto the hot stones, it makes a delightful smell (really).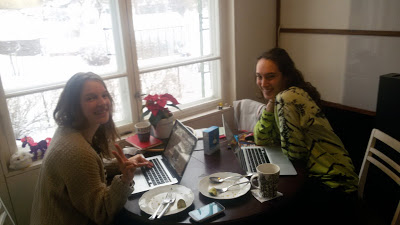 Elephant journal HQ, Helsinki—my coworker, Sara and I working at the kitchen table.
From the small kitchen table where I work, I can watch the light changing outside, fat snowflakes drifting lazily past the window or bunnies appearing from behind trees.
The bouldering gym where I go to climb a couple times a week is small, but intense. Typically crowded and obscured by a haze of chalk, its routes challenge me and always hold my interest. In an open loft workout area, I observe people displaying more varied exercise routines than I have ever seen in my life. I become noticeably stronger over the weeks that I train here.
At my favorite supermarket, I learn to distinguish between smoked and raw salmon, free-range and organic eggs, full fat and lactose-free milk, and more kinds of berries than I can name even now. My Finnish vocabulary seems to consist of equal halves food words and profanities.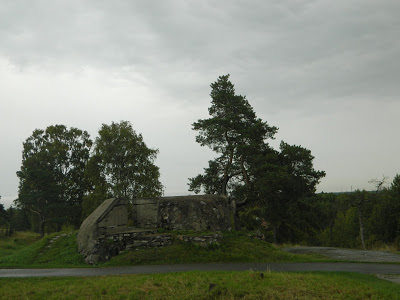 The hill.
Finally, a quick walk from the house I briefly call home brings me to the top a small hill (the highest in Helsinki) topped with crumbling bunkers and criss-crossed with paths. When I don't want to go anywhere else, I step outside, turn right and then right, and make my way there.
***
Welcome to (what was) my world for a short while, I hope you enjoyed the tour! As of yesterday, I am now in Cape Town, South Africa—currently settling in, but lots more on this new place to come!