Musafir is more than a ship. She's an ideal—a vision and symbol of another way of life.
Those who built her and those who meet her find themselves swept up by the singularity of her story.
Musafir—or Msafr in Ki-Swahili—is Arabic for traveler. And indeed, the soul of the 70-foot (21-meter) dhow is travel. When I met her in early 2015, she lay at anchor in Kilifi Creek, on the North Coast of Kenya. Just 3.6 degrees south of the equator, Kilifi rests in equal proximity to the chaos of Mombasa to the south and the ancient port town of Lamu to the north, yet remains utterly tranquil.
During my two months in Kilifi, I visited the nearly-finished vessel often.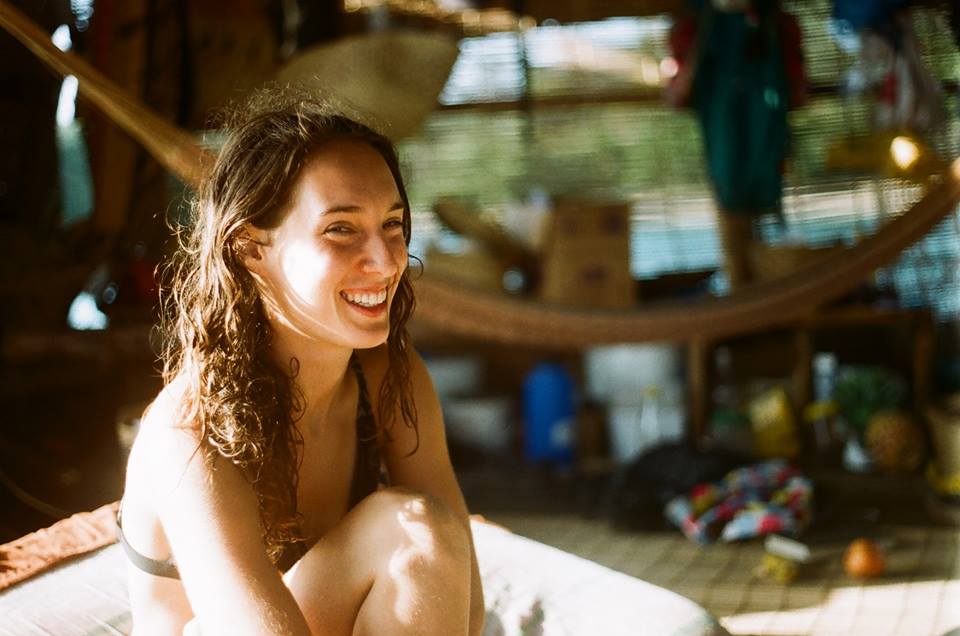 The approach to Musafir required a two-minute swim, or a one-minute kayak ride, through calm saltwater. At the boat's hull, the water glowed a brilliant green as though illuminated by the vessel itself.
Louis, a 30-year-old Frenchman from Burgundy who arrived in Kenya in September 2011, rested on board, a feather in his dreadlocks and a worn pair of shorts around his narrow hips. He had been building the Musafir for three and a half years.
Work on the deck had begun only a week prior to my arrival, and a jumble of boards—some secure, others less so—sprawled before him. From several beams a collection of items hung: one hammock; woven baskets; a blue glass evil eye; a shard of mirror; solar lights; and a Kenyan flag.
The mirror reflected the bright afternoon sun as Louis spoke:
"It was the idea of freedom that called to me. The idea of doing something else. That's why I started traveling, because I saw that this life that was suggested to me was not exciting. I think with this vehicle [Musafir] we can send a message somehow to the world. Not screaming it loud, you know, but by touching people pole pole [slowly in Ki-Swahili], showing that another way is possible. And if you follow your dream, even if you think "no, it's impossible," it's possible."
Louis, along with an Italian man named Paolo, is one of the project's "initiators."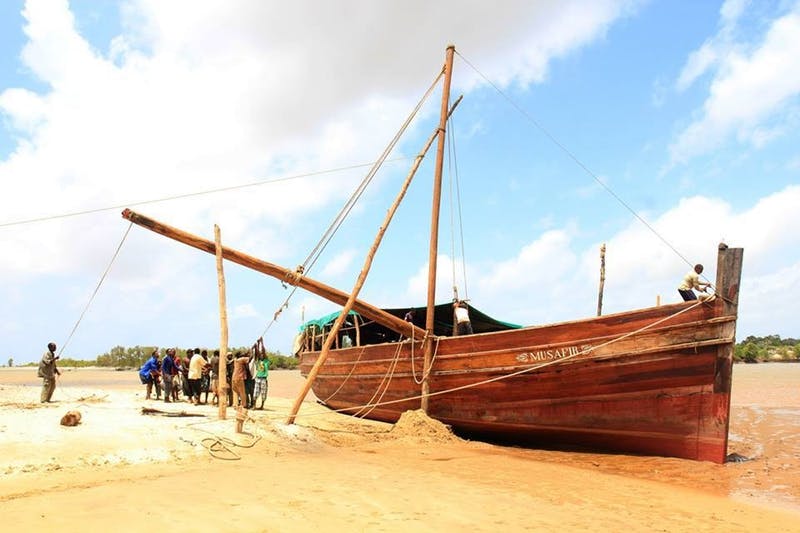 In theory, however, "the boat belongs to whoever is on board."
He laughs and adds, "Me I'm just the Chai Wallah. My job on board will be to make chai and coffee. Just now, you know there are so many other jobs to do and no one else is around to do them."
The project relies on donations, crowdfunding, and—above all—the resources of those who have devoted their lives to actualizing it. Louis, Paolo and many volunteers repeatedly poured their savings into building costs.
Historians differ on the exact origins of the dhow (a broad category encompassing many particular models). Some declare it Arab in origin, while others trace its roots as far as ancient China. A lateen sail and long, narrow hull differentiated the dhow from its Mediterranean kin. Many were constructed in Kerala, South India, known for the quality of its timber. Until Vasco da Gama's arrival to Africa in the 15th century, wooden pegs and coconut rope—not nails—held the vessels together.
Kipini has long been a notorious hub of expert Swahili construction, and thus a natural, far-off-the-beaten-path starting point. Musafir made its maiden voyage from Kipini to Kilifi (more accessible and less isolated) in November of 2014. In four days, she traveled 75 nautical miles, carrying fifteen passengers, a goat who would not see the end of the journey, and several chickens who would.
Musafir, which, more precisely, is a jahazi (a Lamu-style dhow), is held together by copper nails rather than coconut rope. A few power tools for sanding and drilling assisted her construction, and she will eventually have an engine, too. However, Badi (the fundi, or master ship-builder), largely employed traditional techniques.
Cotton canvas sail; old wood from Kipini; axes and sweat.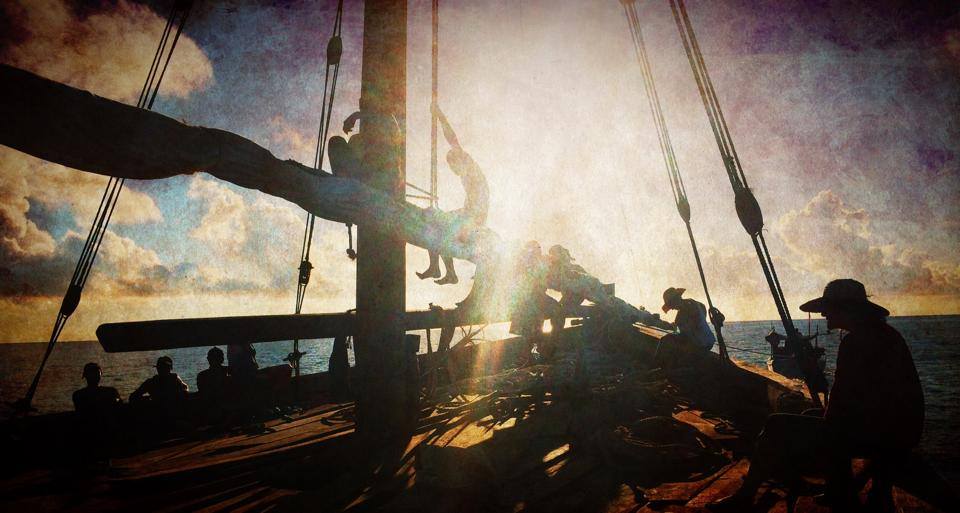 Building a boat of this size by hand is an endeavor few would undertake, but those involved agree that their labor adds inimitable depth.
Louis elaborates, "Does it have soul? Does it have a special energy added to it? I think it does… Day after day of work, you start to know every piece, every nail. It makes it totally unique. You can be sure there won't be two dhows like this in the world."
Dhows once traversed the Indian Ocean, sailing along the Arabian and East African coasts, and following the monsoon winds all the way to India and back. They carried dates from Basra, curved daggers from Muscat, gold and ivory, carved chests, spices and mangrove poles—and ideas. The dhow enabled the exchange of languages, people and ideas as well as goods.
Likewise, Musafir will transport stories, goodwill, and possibly trade items. When the traveler and its travelers make port, "the vision is to have this exchange of culture—learning from communities and doing what we can to fill any specific needs."
Louis, Paolo and others made an exceptional effort to integrate into their temporary homes. They learned Ki-Swahili and befriended the Kilifi men who spend vast swathes of time cleaning the nearby beach. They drank mnazi (coconut palm wine) and worked closely with local experts.
Cross-cultural understanding, they have understood, is an integral component of modern-day travel. Along the Swahili Coast—a vibrant blending of deep Islamic roots and centuries of Bantu, Arab and Indian influence—such insight requires time and complex awareness.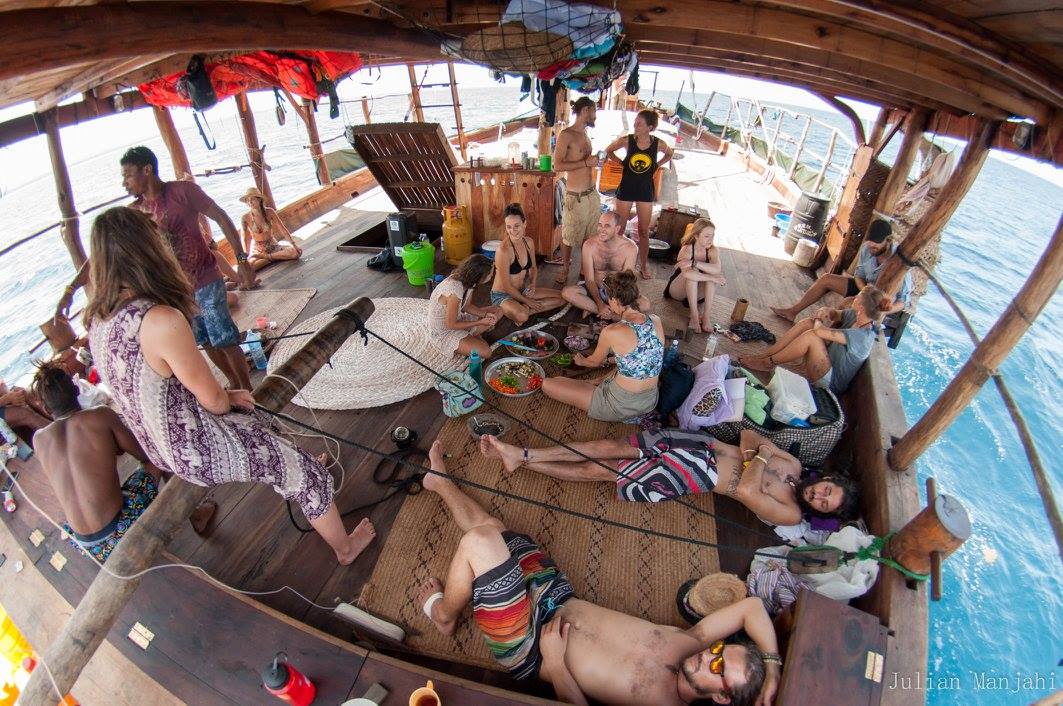 What could inspire a group of unconnected people from around the globe to live and work together towards a common goal? It's not the physical ship, though many involved love to be at sea. More than anything, it is the promise of freedom.
Dario, a volunteer from Sicily, explained,
"I think it appeals to people who are curious, adventurous… and who have a little craziness around, because it's not a safe environment. I fell in love with the idea. To travel, to have access to any country. There are no roads, you know; you are just thinking where to go and you go."
Travel represents both a means and an end. For these Musafiri, there is no "after" in sight—only oceans and journeys to discover.
Dario peeled a mango with a recycled blade and spoke over the snapping of the green tarp overhead as the wind churned and the light became hazy with the setting sun.
"Musafir is about traveling," he says. "It's about life. It's about getting to know new cultures, new people. It's about growing, because while you travel across the globe you're able to learn many, many things that can be illuminating. It's about helping out as well. It's an idea that can amuse people, because if you think about building a 70-foot sailing boat in order to travel around the world, wow, it's a bit of a crazy idea. But eventually… You're sitting on it. The boat floats. We're here talking about it. So it's a project that shows that if you really want something, you can do it."
To leave the ship, I could either climb down the rope ladder on her port side or jump into the warm waters of Kilifi Creek. The inimitable Distant Relatives Ecolodge was only a five-minute walk away. Their eclectic blend of earthy vibes and tropical hospitality served as a base for the Musafir team, as well as myself, for some time.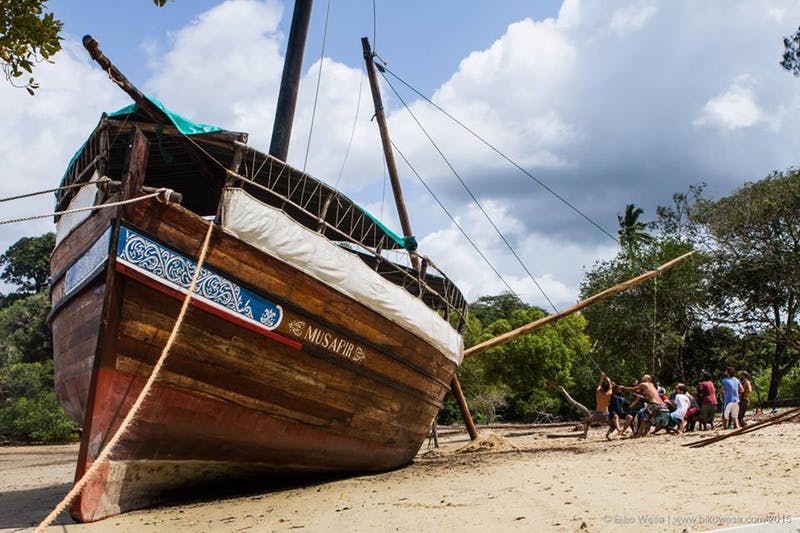 When Louis and Paolo first arrived in Kipini, many of the villagers regarded them with suspicion.
Why did they live in poverty while spending large sums on Musafir's construction? Why wouldn't they use the finished ship to turn a profit? With their long hair and beards, the villagers concluded, the men must be undercover Mossad or CIA agents come to spy on them.
The answer to these questions, however, was and is simple:
Musafir is not a business. She is a message.
Dario concluded, "It's important as well to come down here and understand what it means to take part in such a big project. It's very challenging, and it's wonderful in itself. It teaches you a lot—shows you great beauty."
For those who dreamt her into being, Musafir is a message of freedom and unity. She is a lesson in perseverance and an example of a way of life not yet lost to the world.
When she sets sail, a traveler's soul will go with her.
---
Anyone inspired by this project has several options. One can, if the fit is right, sign on as a volunteer for several months. Alternately, one may support the project financially by donating here.
---