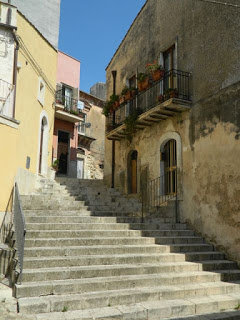 So, what are you doing here?
They say it kindly—with honest curiosity—and they say it in Italian, but that is the question.
The woman at the cheese shop who patiently helps me taste 10 local varieties before wrapping up my selections. The barista at the cafe on the large piazza near my apartment. The elderly gentleman who insists on guiding me through the steep valley from Ragusa (the newer city where I stay) to Ragusa Ibla (the old medieval part of town).
They want to place me, and I want to help them.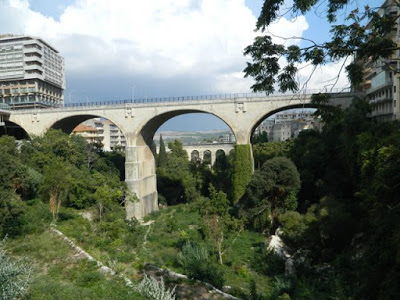 Entering the valley.
I explain, in as few words as possible, my work-travel creation. That is, more working than traveling; more living than exploring.
And, sheepishly, I recall inwardly how disappointing a tourist I have been…
I managed to climb the bell tower of the main cathedral. I spent an hour in Modica, one of the next towns over, tasting chocolate made the traditional (unbelievably delicious) way and eating granita. I've visited a few beautifully restored churches (a huge earthquake in 1693 destroyed most of the older architecture, and I've wandered many of the small, hilly streets, eating gelato, canoli or any other treats I stumble upon. I have the good fortune to be staying with two teachers, and have attended a few dinners, lectures and expositions with them, too.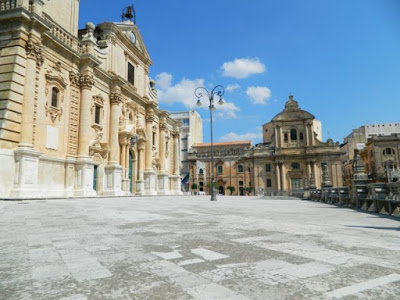 Cattedrale di San Giovanni Battista (and the piazza)
It's not nothing, but it's not much, considering I've been here 10 days already. Compared to past trips, when I managed to cover as many countries in a month and spent entire days on an expedition to see a city from top to bottom, it's not much at all.
What's changed? Quite a bit…
These days, I don't have so much free time.
Between trying to regain a daily yoga practice after injuring my hip, working six to seven hours, chatting with my hosts (my Italian gets better by the minute!), cooking all my meals and trying to write besides, I watch my days fill up fast.
Most days, I'm happy to get a walk in, a visit to the market and maybe an hour at a cafe.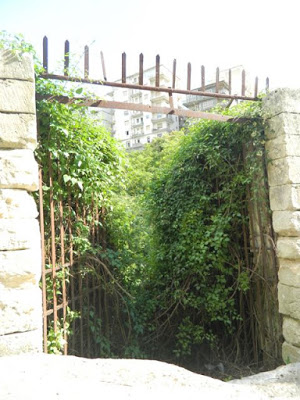 In the valley: gate to nowhere.
So when I feel "guilty" for not doing or seeing as much as I can while I'm in this new town—this place I've never been before—I gently remind myself that actually, I'm not here to visit, to tour, or to see.
I am here to be.
Not, I am in Ragusa to ____.
Rather, I am in Ragusa.
That's all.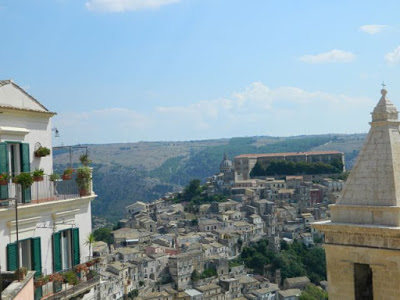 Ragusa Ibla.
It's a subtle shift, but it relieves some of that odd pressure of being a tourist or traveler—here to see, absorb and record as much as possible.
And I find I am only capable of this shift because I have "an excuse." I'm working, I'm not on vacation, I'm girando (moving around), but I'm not a tourist… blah, blah blah. Excuse or no excuse, maybe this is the way to do it—for me. (You can do it however is the right way for you, of course.)
Seeing what I see and doing what I manage to do, but moving my focus away from quantity of recordable events, I can experience my existence here without expectations. The same way I would anywhere, without the badge of "travel" tacked onto the box where I store and process those stories.
What does it mean to focus on "being" in a place, rather than "seeing" a place?
Well, that's what I'm figuring out right now… I'll let you know.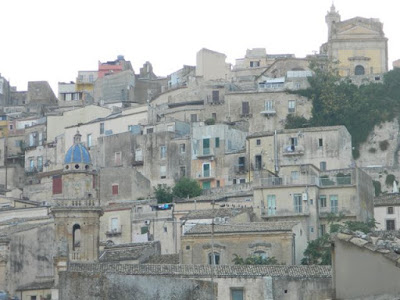 Ragusa Ibla.
***