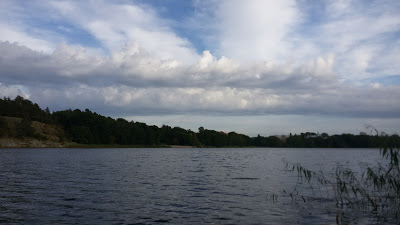 Believe it or not, this is right in Stockholm!
I've fallen behind. There are several cities I have seen and enjoyed without writing a single word… And so now I'm revisiting not only in person, but also in spirit as I backtrack to bring you these snapshots.
Stockholm first.
(Evidently I have almost no pictures, so these will mostly be word snapshots.)
I arrive in Stockholm in mid-September to visit my oldest friend (for all intents and purposes my big sister) in her new Swedish life. She and her boyfriend graciously share their one-bedroom apartment with me for a week, and I get in what sightseeing I can between work and catching up.
We bake miniature apple pies for fika, Sweden's infamous coffee and cake time, and cook kugel (noodle casserole) and brisket (Jewish soul food) for a belated Rosh Hashanah celebration.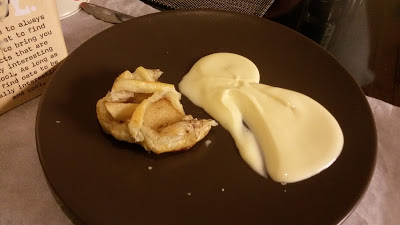 Based on the tradition of fika alone, I should probably move to Sweden.
I also discover morotsmuffins (the most delicious carrot cake muffins in existence, with cardamom and cream cheese frosting), of which I unfortunately have no photographic evidence. (Ben & Jerry's, on the other hand, I find myself morally obligated to document—the VT brand has officially gone global.)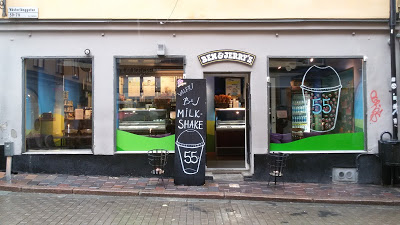 Ben & Jerry's in Stockholm? Oh yeah!
(No, I didn't buy any. Morotsmuffins, remember?)
I dip my toes into my friend's life here, meeting friends and learning a few useful Swedish phrases: "tak" (thanks), "hey" (you guessed it, hey) and "var festin mit fulla killor?" (where's the party with the drunk guys?) I think I should be all set, no?
We also discuss politics and the refugee crisis (with Sweden poised to take in 200,000, it's a particularly salient topic), but that is a far more serious discussion for another time.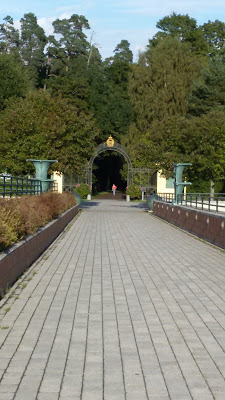 Entrance to Haga Park.
Haga Park, just minutes from my friend's Solna apartment, is a sprawling oasis sprinkled with a few architectural oddities. "Am I really in Stockholm?" I write as I watch the shadows grow over a massive lake. Difficult to believe.
Haga park—attempted dusk capture.
And lastly, wandering through Gamla Stan (Old Town) on my rainy day off, I stumble upon a marching band playing Abba's "Dancing Queen" as a motley group of protesters waits to march through the square—one of many wonderfully incongruous details I observe over the course of the week.
I might as well stop there, as nothing could be better…
***
(Stay posted for Helsinki and Amsterdam/Haarlem snapshots!)