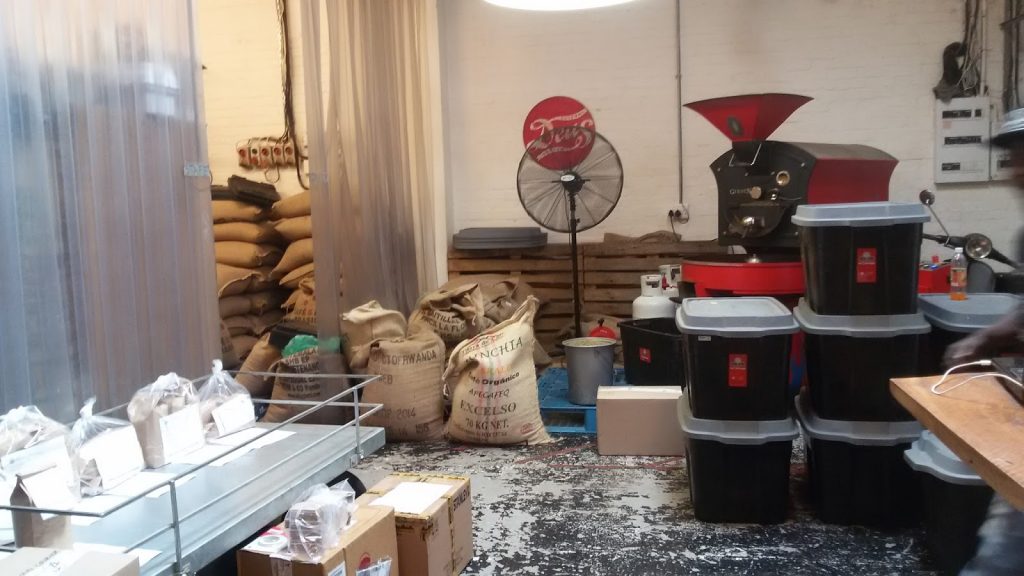 A side alley off Buitenkant Street, Gardens, City Center, Cape Town
The first sip is bitter, sour, almost acrid, before my palette adjusts and the taste mellows into a more complex configuration of nutty, earthy, sweet and rich.
This is good coffee.
I'm sitting at my favorite Cape Town cafe, Deluxe Coffee (also called YARD, the Dog's Bollocks and the Bitch's Tits), where motorcycle parts, vintage bicycles and canvas sacks of wholesale coffee beans make for original decor.
I've occupied this stool at the counter for well over an hour now, and nobody cares. Par for the course.
Cape Town has an exceptional coffee culture. (The reason I've consumed more coffee in the past three months than probably the last three years prior—well, that, and the fact that a cappuccino costs a bit more than a dollar.)
What is "coffee culture"?
Well, to answer in negatives, the U.S. does not have a coffee culture—or a cafe culture, to be more precise. A coffee culture does not "run" on coffee (like Americans run on Dunkins), but rather stops. Sits. Stays. Connects.
And when you stop to taste your "cup of joe," quality matters. Deluxe Coffee may be my favorite spot, but easily half a dozen others tie for second. There is a lot of good coffee in this city.
To-go cups are more rare, too, and at least among my friends, "going for coffee" is an hour(s)-long undertaking—not a five-minute quick fix.
Cape Town generally moves more slowly. Less rush, less stress, none of the high-powered, shiny, corporate velocity of New York, London or Hong Kong. None of the humorless, chain-brand cafes, either.
Starbucks hasn't made it to Cape Town, yet, but I hear it's coming. When it gets here, I hope Cape Townians will put it out of business.
In a cafe culture, independent roasters, brewers and purveyors of coffee thrive. Character and personality matter—or maybe that's just me.
And I think there's a common denominator between coffee cultures and Slow Food. Shared values. An appreciation of quality, and a willingness to wait for it.
Many of the cafes where I go to do work have some of the worst service I have seen anywhere in the world. Friendly, but extraordinarily slow.
But, good food. Good coffee.
See the connection? I do.
I am more than a little bit enamored of the Slow Food movement—and of Cape Town's coffee culture.
I like the pace, the time for detail, the space for real connection. This is what a cafe should be, in my opinion.
This is how coffee should taste. This is how life should move.