It's 2009, and I'm eighteen. Paris is home for the year.
It's a chilly night in early winter. Ten or eleven o'clock. I've just gotten off the metro somewhere in the center of the city.
Buzz. Buzz. The text messages, which don't yet reach underground, arrive in a flurry. "Can't make it." "Running late. Might bail." "May come later. Not sure."
Well shit. I'm not going in there alone. My first instinct is to flee right back the way I came.
But then I glance at the bar—warmly lit wood and brass, clientele dressed in the ultra-chic black uniform of the city—and my natural stubborn streak takes over.
So what if no one else is coming? It's Friday night, and it took me forty-five minutes to get here. I'll be damned if I go home without at least checking out the scene.
I open the door. Step into the warm light. Rest an elbow on the narrow wooden bar. Order a glass of wine—white, I think.
The clamor of several dozen voices reaches my ears at once. I absorb it as I sip my wine, but before long someone strikes up a conversation with me, and my focus narrows to just one. I practice my French. Find that it comes easily with strangers, without pressure. Somehow I find myself at a table with a dozen young people from the south of France. Celebrating a birthday—I think.
The evening flows, and I leave for home many hours later, glowing with perverse satisfaction more than anything. I went out alone, and it didn't suck. So there, world!
---
I've been meaning to write this piece for years. All credit goes to the friend who asked me last week what I did about going out alone when I travel: Thank you for reminding me.
That night in Paris was, in a way, a pivotal moment in my solo travel career. It's one thing to hop on a train alone, sightsee alone, or even eat at a restaurant alone. We might do all of these things with ease, yet panic at the thought of entering a bar or club without backup. And by "we" I mostly mean "we women," as that is the experience I feel I can speak to.
Why? Why is this the impassable limit of independence?
Well, first off, we've had it drilled into our heads that this simply is not done. That old fear rhetoric strikes again. Creepy guys, lechy guys, drunk guys; social stigma, weird looks, pitying stares; feeling lonely, awkward, unpopular, uncomfortable—
Ahhh stop! Forget it. Let's never go out alone. We're convinced. Right?
No! Let's go out alone, because, as usual, reality is better than our imagination—and certainly better than our nightmares.
I went to bed that November night in Paris feeling empowered. "Not sucking" may seem like a low bar for an evening out, but when we're conditioned to expect utter disaster from any solo foray into social adventures, "not sucking" is actually high achievement.
In the years since, I've often gone to pubs, live shows, dance clubs, bars, and festivals alone. Sometimes I even—gasp—prefer it. Story for another time.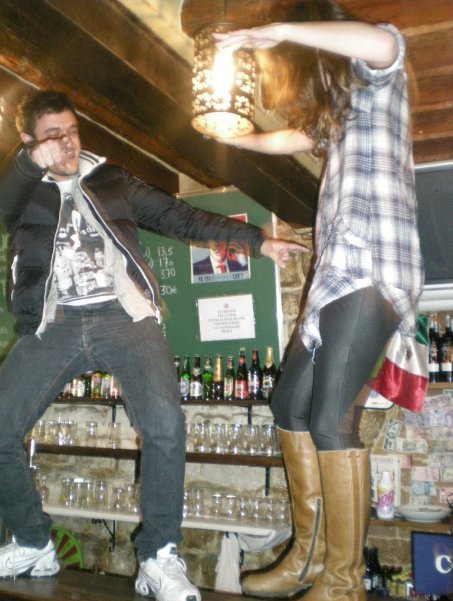 I think the "how" of going out alone is fairly self-explanatory, but I'd break it down something like this:
> No expectations/low expectations. If you'll happily go home disappointed, a nice evening out is a pleasant surprise.
>> Stay sober-ish. Obvious. Safety in self-possession, especially if you're trying the solo adventure thing.
>> Stay open—to possibility, to people, to surroundings. There's potential in everything.
>> But be prepared to deflect all the kinds of creepy. Welcome to the world. Books are excellent shields. So are crazy-arm, spinning-jumping dance moves.
>> Just open the damn door and go in.
Worst case scenario? It's terrible, you go home, and you can blame me later for even suggesting such a thing.
Best case scenario? You learn that you truly can do anything, because you're a badass, and life isn't as scary as everyone tells you.
Cheers!