Unicorns seem to be one of those funny, random, reoccurring themes that run through my life. They are joined by the word
vagabond
, feathers, the color purple (I mean the color, not the book), and plenty of others that I forget about until they pop up once more, unannounced.
I remember a couple friends who once told me they had decided I was like a unicorn. That is, I was a rare and magical creature. Naturally, this is the best compliment I have ever received to date.
Unicorns, along with horses, became one of my favorite things to draw as a young girl. To be honest, they were one of the only things I could draw with any accuracy.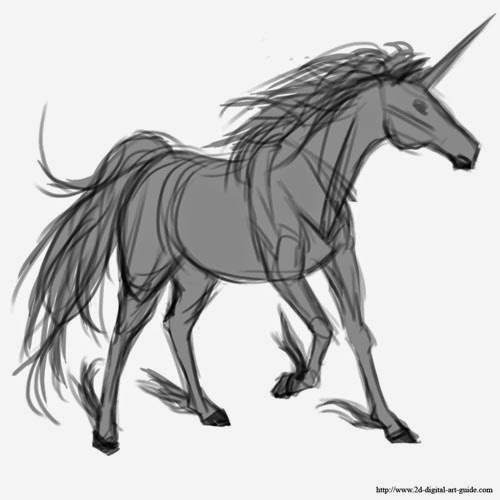 Not mine.
Yesterday at work, I started a grocery list while waiting for customers to arrive. I made it through yogurt, granola, bananas, cheddar, and cayenne before things got busy. At the end of my shift, I folded up the list, stuffed it in the outside pocket of my backpack, and, as I typically do, completely forgot about it when I stopped at the Middlebury Coop on my way home.
Today, I pulled the list out of my bag to use as scrap paper, and noticed my coworker's delightful addition: unicorns.
"How did you know I was running low?!" I asked her by text.
She replied: "Aren't we all."
Indeed. Aren't we all running low on unicorns.
Now, I could take this much too far into deep, metaphorical waters, and I am tempted to do so, but I will refrain myself. Take from it whatever you choose. A bit of silliness as you segue into your weekend. A nonsensical story only peripherally about unicorns. Or an unintentionally insightful comment on the diminishing place of whimsy in our world.
It would seem we're running low on unicorns. Would you mind picking some up at the store?
~