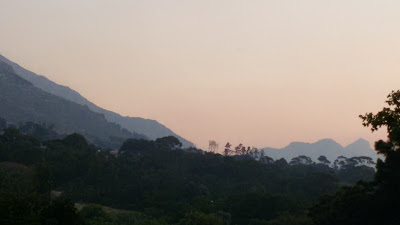 The view from my patio, Hout Bay, Cape Town.
Hout Bay, Cape Town, South Africa
"You need to watch that the gate closes to make sure no intruders get in," says my neighbor.
To enter the compound where I live, I click the green button on the remote attached to my set of keys, then press it again to close the gate behind me. To enter the cottage where I'm living, I must unlock a metal grate outer door, then the regular house door. I live in one of the calmest areas of Cape Town—it is like this everywhere (but this is nothing, so I'm told, compared to Joburg).
From my back patio (which includes a garden and pool), you can just make out the

township

that lies a couple kilometers away.
The bus I took from the City to Hout Bay a few days ago drove through the township, and the corrugated iron building materials, open front barbershops and markets, cows, snaking roads and general vibrancy marked a stark contrast with the carefully gated houses on my street.
The juxtaposition is not lost on me.
I have been in Cape Town for seven days now, and it seems necessary to get this out of the way before I begin to write anything else about my life here.
The high security is the first thing I noticed when I arrived (truly unlike anywhere I have ever traveled), and all that it implicitly reveals about this place underlies everything else—or such is my impression. I could hardly boast any depth of understanding of these complex social, political and racial tensions, so for now, suffice it for me to say that they are there, and to share these few observations and facts:
The current unemployment rate in South Africa is between 25 and 45%, depending on whom you ask.
When I walk the three kilometers from my house to the supermarket, I am typically the only white person on foot.
When I take the minibuses (similar to matatus in Kenya), I am the only white person on the bus, too.
There is a massive wealth gap.
Racial tension is very real, and politically fueled.
Theft, break-ins and other crimes are extremely common (the high security isn't just paranoia).
Apartheid ended in 1994; that's nearly 22 years ago. (Although, coming from the U.S., I'd call that quick progress!)
When I asked my Uber driver about the social climate in Cape Town, he continued to call me "ma'am" as he proceeded to heatedly discuss the circumstances that he and his community and family face. ("Ma'am, I was black enough to fight in the riots against apartheid, but I was not black enough to get a job in the new government after the elections." "Ma'am, the people in my community, when they vote now, they don't see boxes; they see color.")
Right, so what does it all mean?
That is probably something I will spend the next few months investigating in depth. However, I feel it is necessary to offer these initial comments and observations as prelude to future posts on Cape Town—whether it seems relevant to those topics or not, everything is always connected.
***